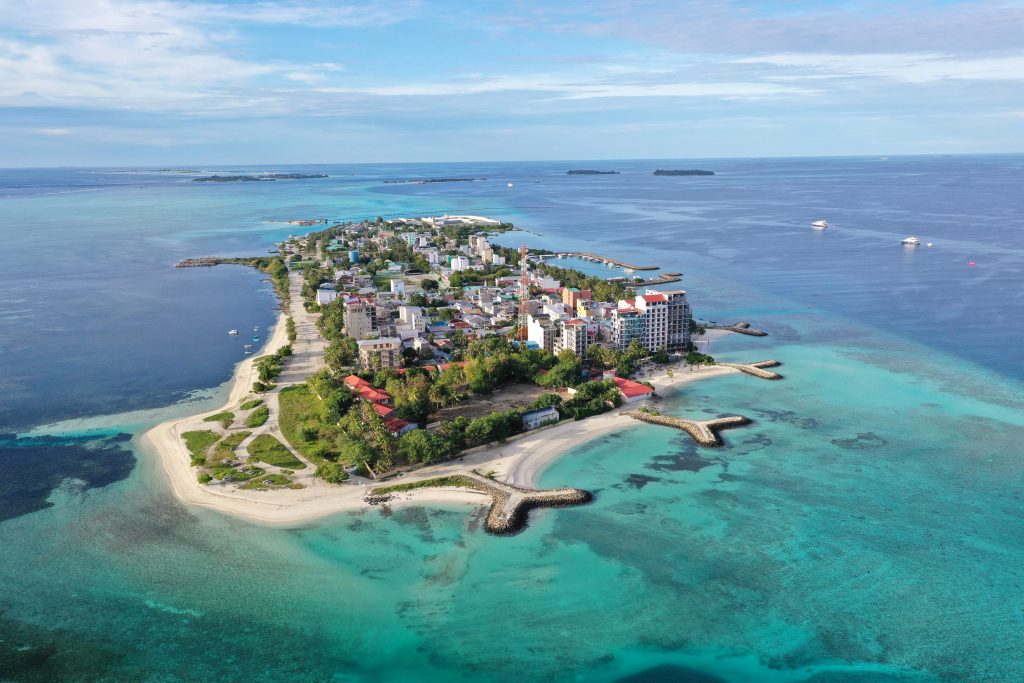 Arena Beach Hotel is located in the island of Maafushi in Kaafu Atoll and is reachable via a 30-minute speed boat ride from Male'. Before delving into the wonders of Arena Beach Hotel, it is important to understand the island it is situated on. Maldives has long been associated with luxury travel and rightfully so; the archipelago has over 100 resorts that exude grandeur. However, islands like Maafushi are here to challenge that claim. Being one of the most popular and majestic islands in all of Maldives, Maafushi spans around 1275 meters in length and 265 meters in width. The island has become synonymous with budget travel in Maldives, with a myriad of guesthouses scattered throughout. Mind you, budget travel in Maldives is budget only in name and cost. Most guesthouses are designed like top level hotels and provide amenities as such – don't even get me started on the hospitality, it is a whole other topic in itself.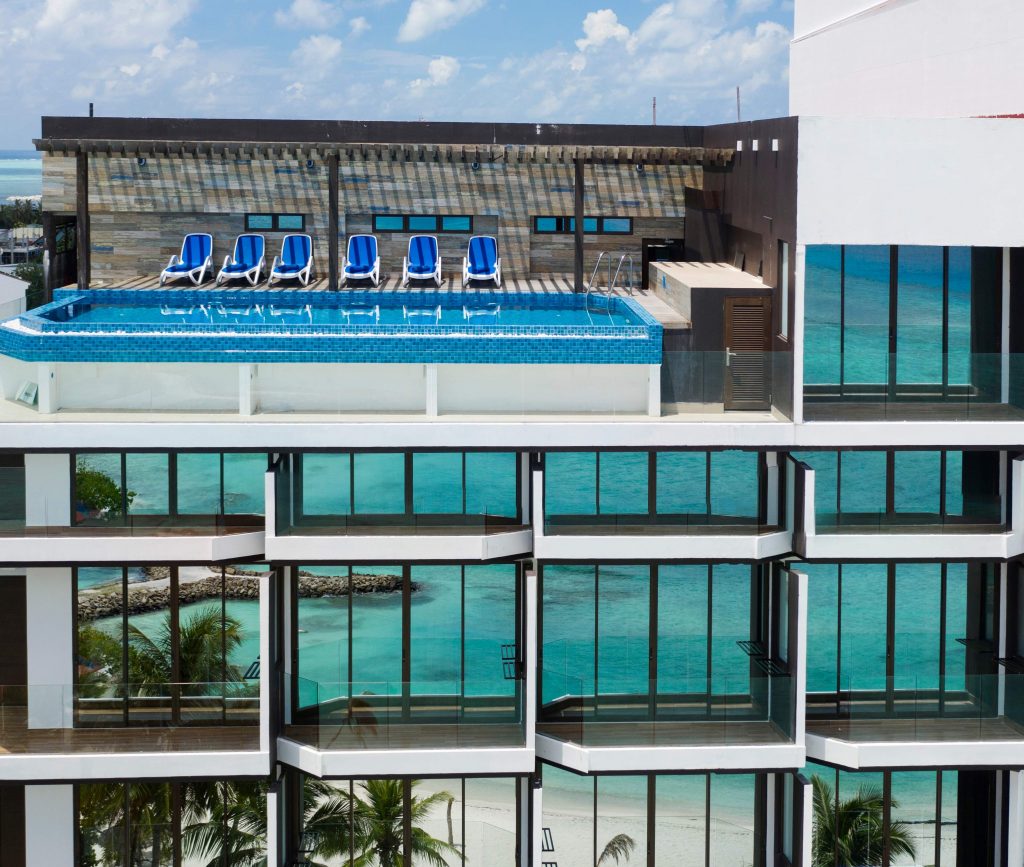 Now moving on to the star of the show, Arena Beach Hotel. This family-owned establishment has 3 different locations throughout Maafushi: Arena Fushi Seaview, Arena Grand and Arena Beach Hotel – all located on the beach front.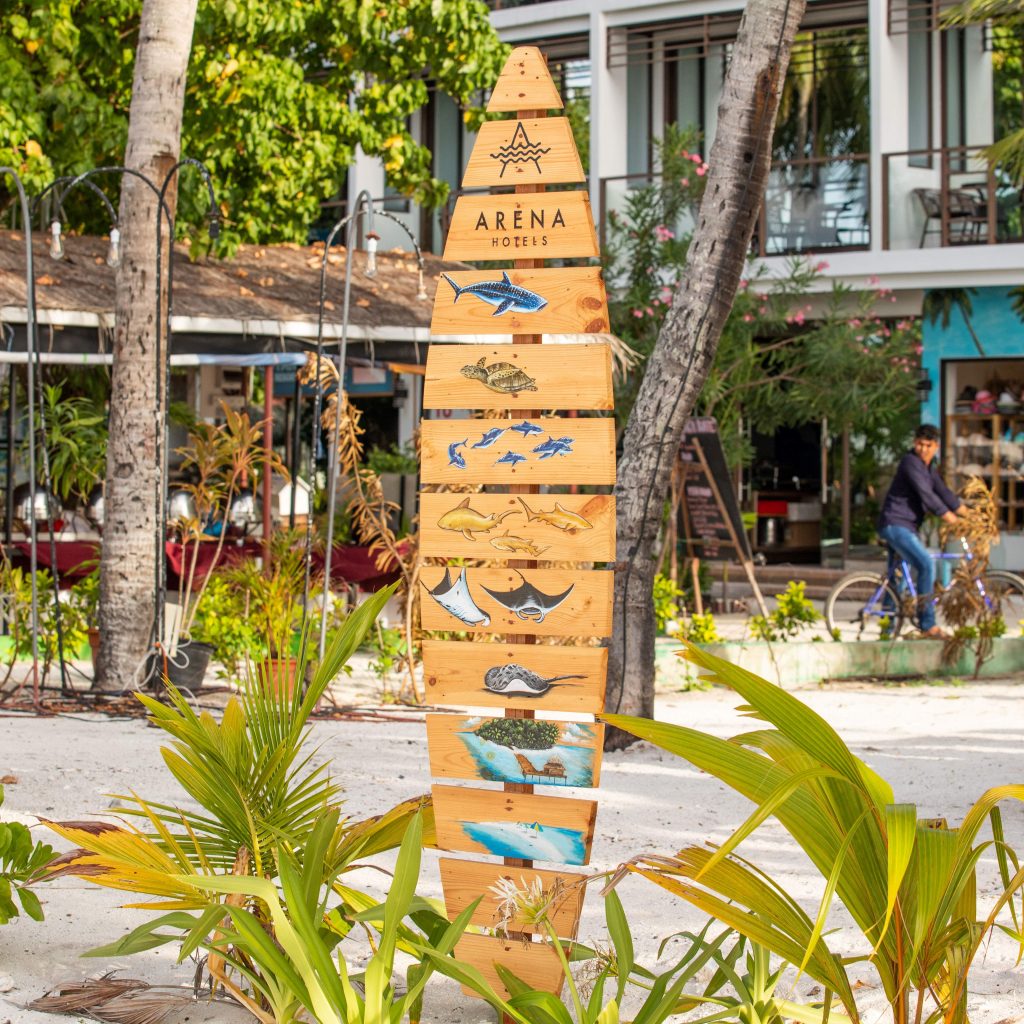 From the moment you enter Maafushi, the staff of Arena makes you feel like royalty – the hospitality that has become synonymous with Maldives is on full display. Since this article focuses on Arena Beach Hotel, we will be directing our attention there. This towering 7 story building has a plethora of options when it comes to rooms: standard deluxe, deluxe double, super deluxe double, premium double and premium super deluxe. All the room rates are between approximately 100 USD to 200 USD and be assured, no matter what you choose, you can't go wrong. All these rooms will remind you of some of the best hotels in the world.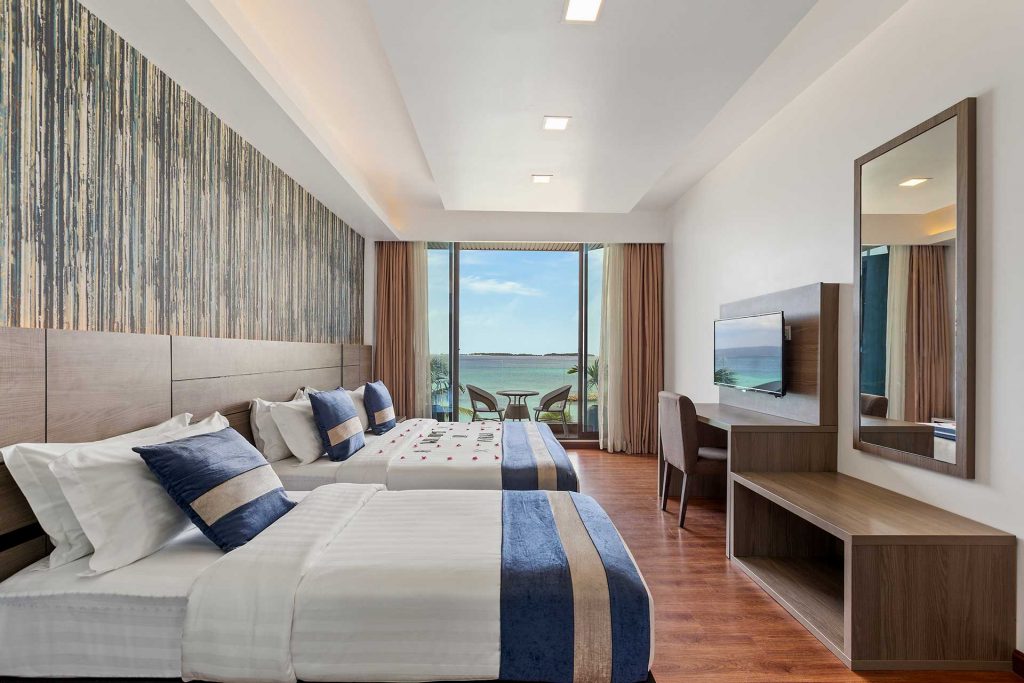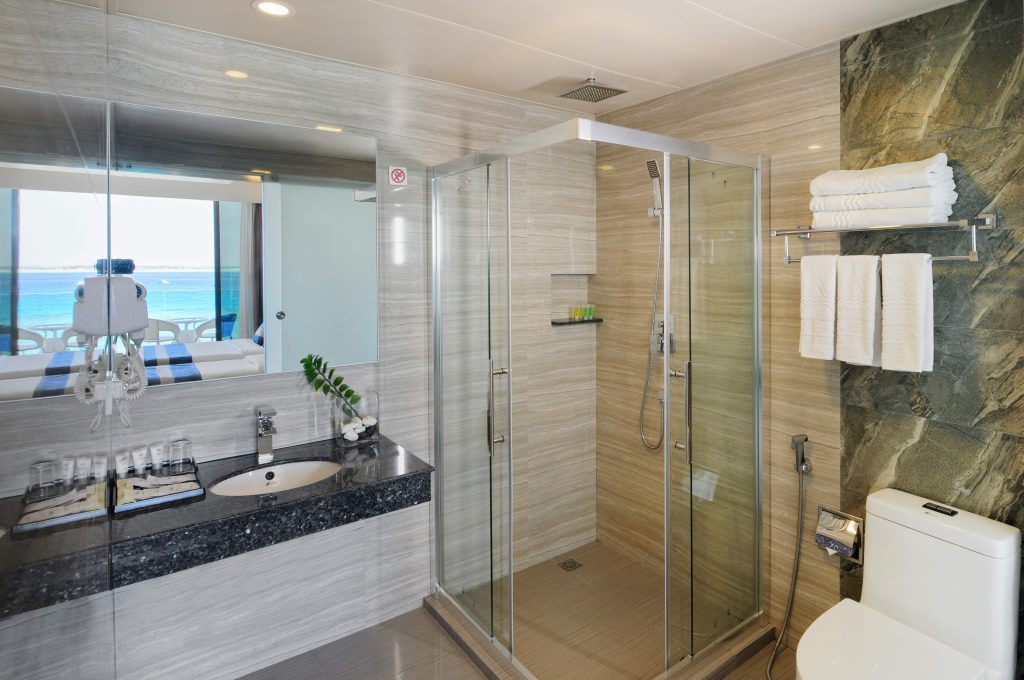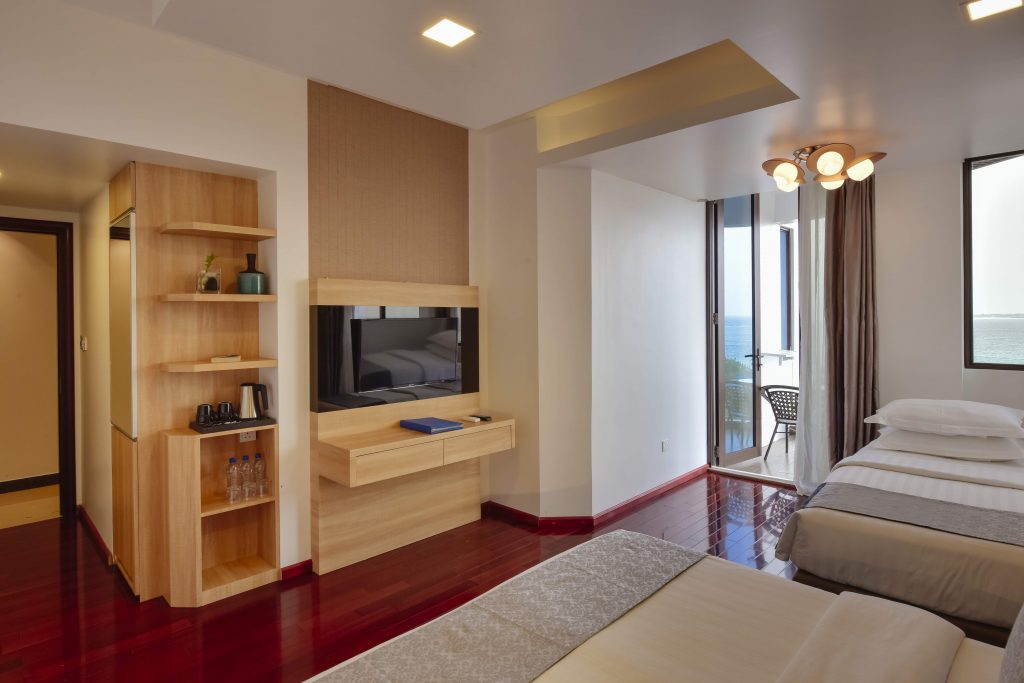 The deluxe rooms are your escape from the real world, with spectacular interiors as well as a balcony offering breathtaking views of the island or the sea. Tranquility is the name of the game here as whether you are overlooking the palm trees and tropical surroundings or the Indian Ocean, you will not be disappointed.
Then come the Super Deluxe rooms located on the higher floors with a balcony. These rooms are bigger and more feel more luxurious than the deluxe rooms and have an easy access to the terrace where sunbeds and a breathtaking view await customers.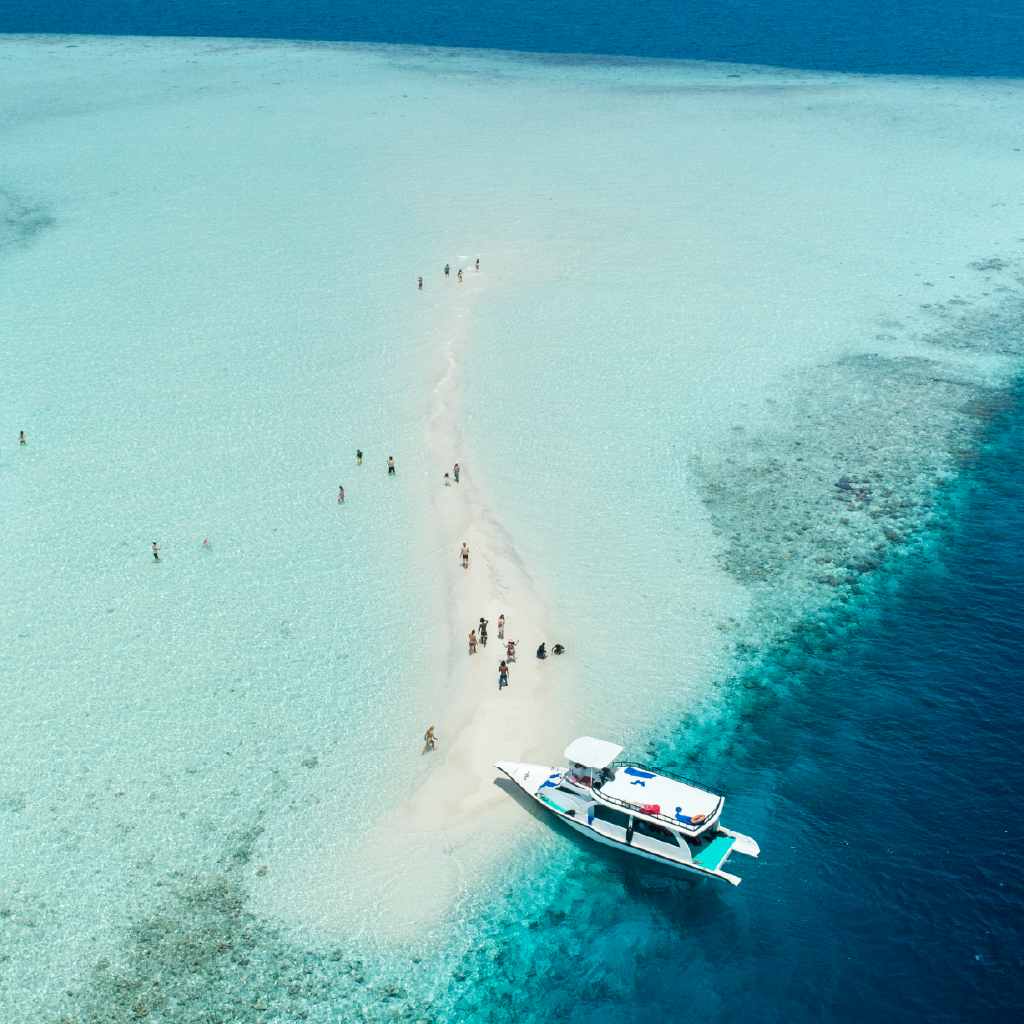 Let's be honest, rooms are nice and all but that's not what you're here for. You're here to experience the almost unparalleled beauty of Maldives and Arena Beach Hotel has got you covered. Arena offers excursions that will ensure your trip will be memorable and will have you coming back for more. We're talking diving, snorkeling, night and big game fishing, trips to sand banks, picnics, sunset cruises, dolphin cruises, whale shark watching, canoeing, beach volleyball and football, surfing, paddleboarding, bicycle rides, board games and billiards amongst many others. Good luck fitting all that into your schedule. Furthermore, they also offer specialized private candlelight dinners for all the love birds out there as well as honeymoon packages and wedding ceremonies.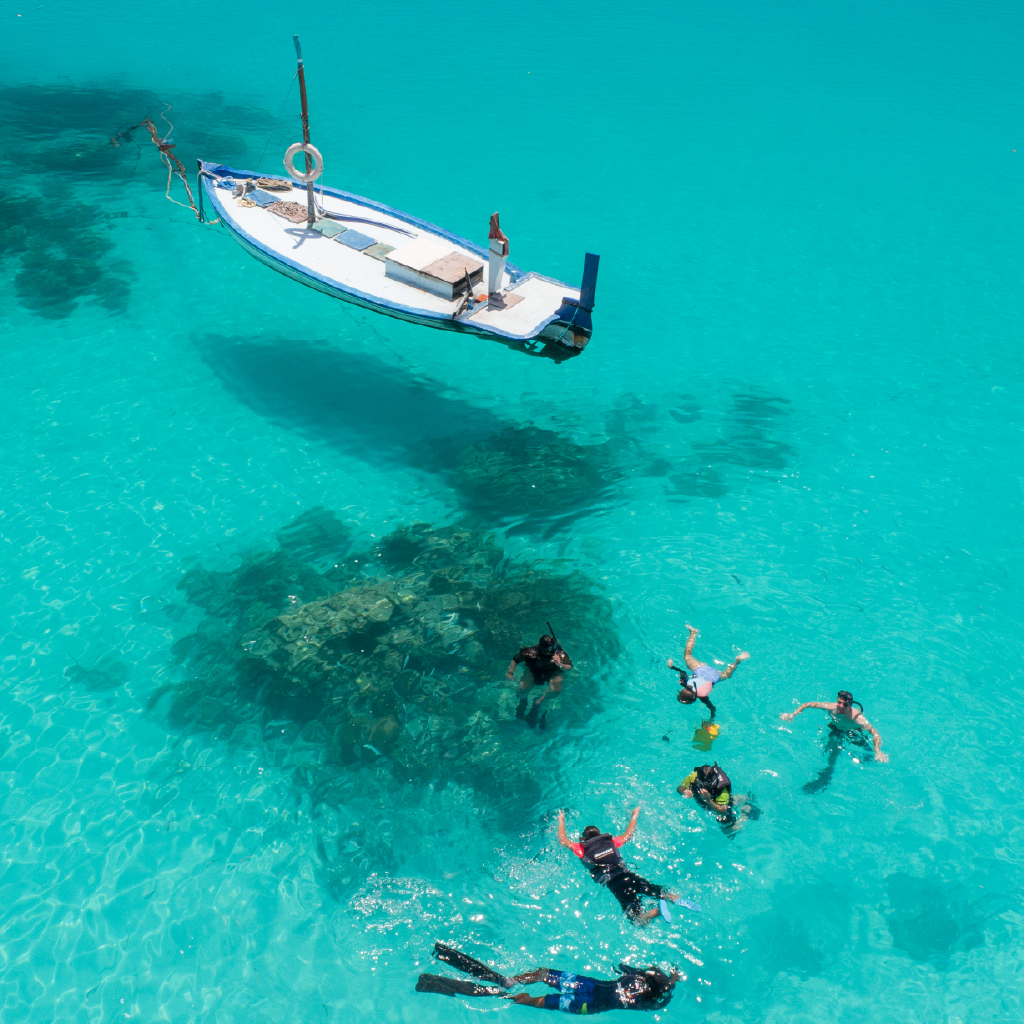 If all these activities get you exhausted (and how could they not) be sure to visit the infinity pool located in Arena Beach Hotel. The restaurant in Arena Beach Hotel, Coco Grill is also nothing to gloss over, offering buffet breakfast and dinners with both local and international cuisine. There is almost nothing like feasting on scrumptious food while sand is running between your toes. At night, stars will illuminate the sky as well.
They are also planning on opening up a spa soon which will offer body wraps, massages, fragrance and treatment therapy amongst others.
Over the years Arena Beach Hotel has become one of the best rated guesthouses in all of Maldives, earning awards such as "Leading Guesthouse in the Maldives" and "Travel Awards 2015", whilst remaining highly rated and extremely popular on online travel agencies such Trip Advisor, booking.com and Agoda. All these awards come highly justified as Arena Beach Hotel is indeed one of the finest guesthouses in all of Maafushi, offering luxury without breaking the bank. They have taken almost every step possible to ensure their guests get the best possible experience, without ever compromising on anything. The establishment is the exemplification of Maldivian hospitality, natural beauty and will have you coming back for years to come.